One of my favorite jobs to date was working with The Centre at Lexus Escondido and Elevator Agency to build all of the imagery for The Centre's new brand (all of the images found on their website--including those for Vintana Restaurant--were taken by me, and you can read about that here). Not only did I get to work with many of my good friends (including my assistants, the creative director, and the client), but the job was on a fairly massive scale spanning over 4 days (a few of them 12 hour days), and I love the energy that goes into, and comes out of, that type of work.
One of the rooms that I shot for the original branding was recently gutted and rebuild as a "Technology Center" for the Lexus dealership on the main floor of The Centre. They called me in for an estimate on the job and then quickly accepted that estimate. I was stoked to be working with these folks again… especially on a project like this one! 1) I kind of have a secret crush on Lexuses (is that the correct plural for Lexus??). 2) The room that they build out as the Technology Center was a pretty amazing combination of architecture, design, and modern functionality. The room was designed by StudioMyID, an interior architecture and design firm based in San Diego, CA, and it features an iPad table, a 60" flat screen TV, a 40" touchscreen, a ginormous video wall, a small showroom, and a circle inlaid on the floor to park a car. The whole room centers around getting customers excited about new technologies build into Lexus' products, and training them, one-on-one, on how to use those technologies. What's more is that the room is placed right outside of the full bar and lounge area that is part of Vintana Restaurant, so that potential customers can easily be enticed into a room that lets Lexus shine. The Technology Center is a fantastic idea, and one that has been executed very, very well. Congrats to the folks at The Centre… I hope our paths will cross again soon!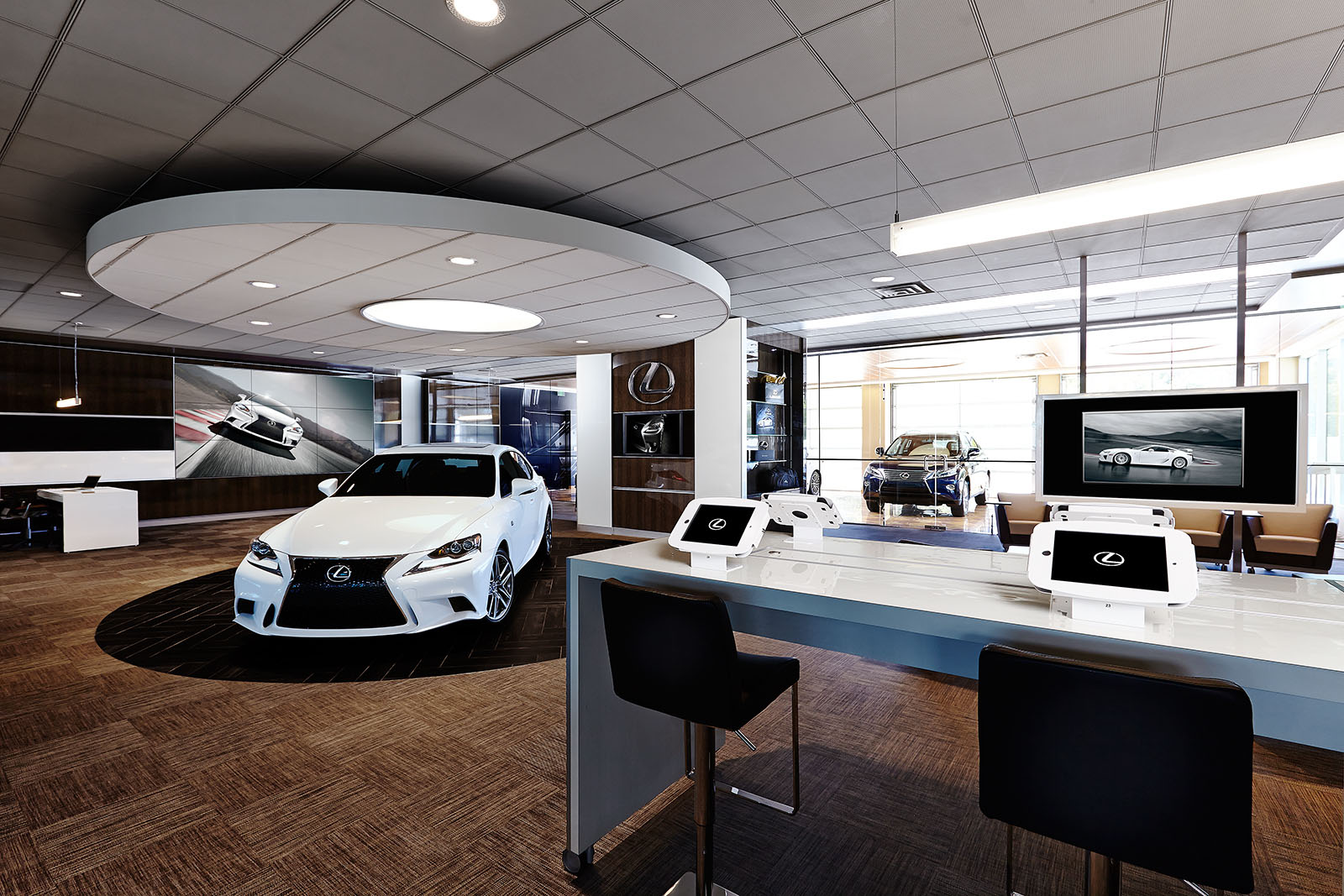 For those technically minded, like me, that like to learn more about the process behind what makes an image, I will say this: A lot of the work on these images was done in post production. I did light the scene with strobes wherever I needed them, but I also bracketed exposures and did a lot of painting with exposures, masks, and adjustment layers in Photoshop. The pen tool was my best friend in some of these images--just about everything is pathed out so that I could use different exposure, different color balances, different curves, etc. on each individual element. A lot more time went into post production then it did actual production, which seems to be the case more and more for me. I actually like the creative side of post almost as much as that of the actual lighting, directing, and shooting… so I guess that works out well.